Charity
We're a lively bunch and love a challenge
Raising money for our charity partner allows us to give something back while testing our limits. Every year we come together to think of new fundraising ideas, and whether it's trekking across mountains, jumping out of planes or baking cakes we put our all into it. And for a small company, we've raised some pretty hefty amounts. This means that each year our targets (and challenges) get bigger and bigger.
If you'd like to be considered as a charity partner, please email events@nucleusfinancial.com.
SAMH
This year we've partnered with the Scottish Association for Mental Health (SAMH). They've been around since 1923 and currently operate over 60 services in communities across Scotland. These services, together with their national programme work in different campaigns, are working to influence positive social change on mental health.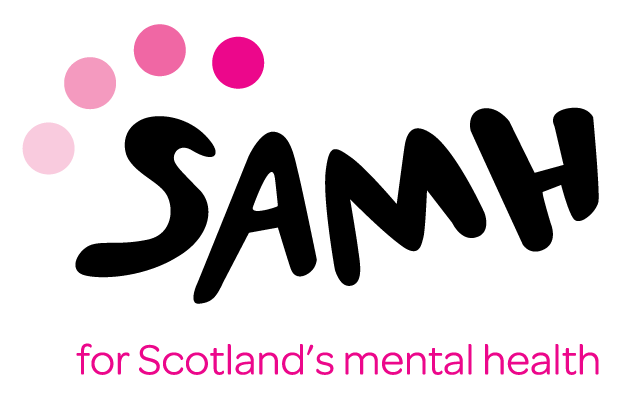 ---
Our previous charity partners
MND Scotland
MND Scotland is the leading charity in Scotland providing care and support to people affected by Motor Neurone Disease (MND), as well as funding vital research into finding a cure.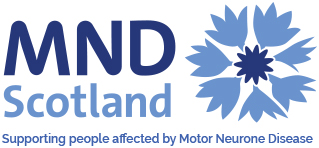 Total raised in 2019/2020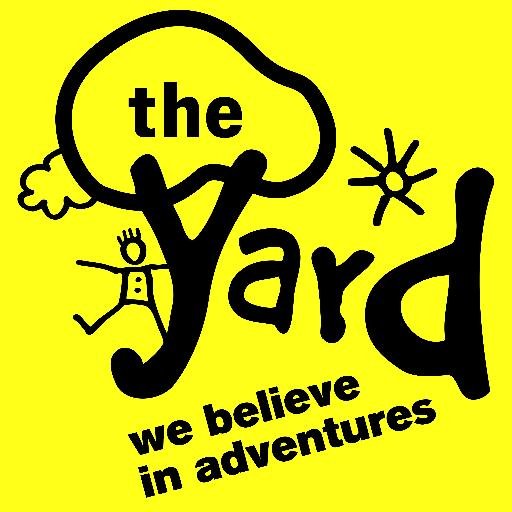 2018 The Yard.
The Yard offers disabled children and young people, and their siblings, the chance to experience creative, adventurous indoor and outdoor play in a well supported environment. It is a unique, safe space where children and young people experience truly inclusive play.
The Yard is open to all disabled children and young people, and is an important lifeline that creates a sense of belonging, community, and support for parents and carers too. They strongly believe disabled children should be offered the same opportunities as their mainstream peers to get involved in risky play to help them develop, learn, build friendships and find their own limits.
Their flagship centre is in the city centre of Edinburgh and after working with families in Edinburgh for the last 30 years, they now run services in Dundee and Fife, allowing them to reach more families who need support.
Ideas we have for fundraising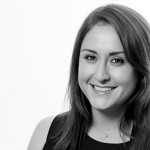 "I can't believe how generous the people of Nucleus have been when it comes to raising money for the various charities we've supported over the years – we always go above and beyond no matter the challenge!
Amy Irving, Assistant website marketing manager
2017 – SAMH
In 2017, we set a target of £40,000 and raised an amazing £42,000. As usual, everyone (Nucleus, our users and supporters) went above and beyond to help us reach this incredible amount of money for Scottish Association for Mental Health (SAMH). As well as our charity auction at our annual conference, and numerous smaller events throughout the year in the office, a group of 35 Nucleus staff successfully took on the incredible challenge of running the full 95 miles of the West Highland Way within 24 hours.
West Highland Way miles ran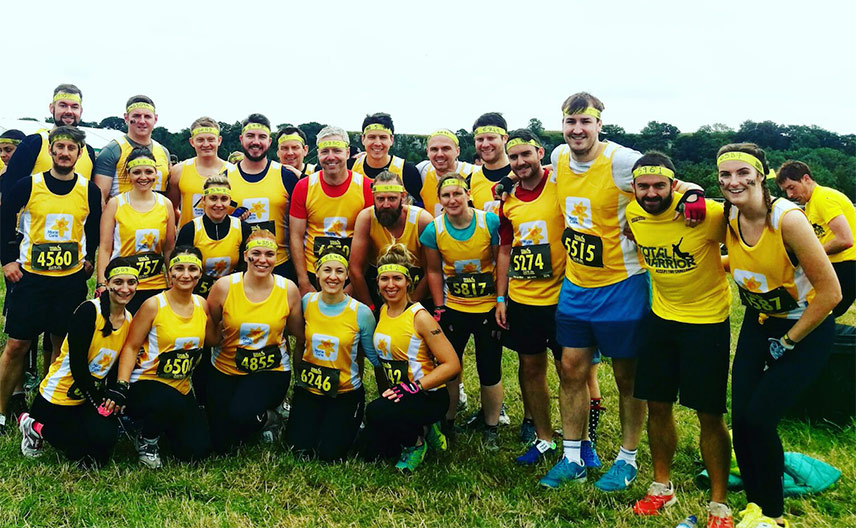 2016 – Marie Curie
In 2016 we smashed out target of raising £35,000 for Marie Curie and went on to raise over £50,000! As usual, the dedicated hard work from everyone and Nucleus, our users and supporters helped us reach such an amazing amount. As well as our charity auction at our annual conference, we got down and dirty with over 30 Nucleus people taking part in Total Warrior, pretty much getting caked from head to toe in mud! On the flip side we also had a beauty fest night where nails were buffed and hair was waxed. We also did a 'Chilli Challenge' where some brave (or stupid) Nucleus people decided to take part in eating a wide array of very spicy chillies!
2015 – Joshua Nolan Foundation
Last year we were delighted to smash our target of £30,000 with a grand total of £33,279 which we achieved through an ambitious combination of cycle rides, marathons and mountain treks for the Joshua Nolan Foundation, a mental health counselling charity.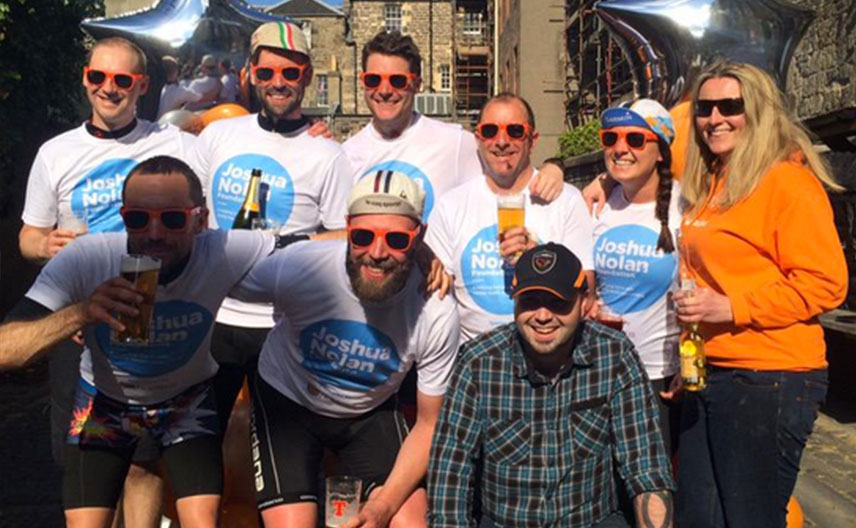 Miles cycled from London to Edinburgh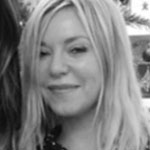 "We were very proud to be selected as the Nucleus charity partner for 2015. The support enabled us to significantly increase our impact on those in need to create a stable platform for the future. We were both impressed and humbled by the enthusiasm and commitment of Nucleus to raising funds and loved working with them over the year."
Laura Nolan, CEO, Joshua Nolan Foundation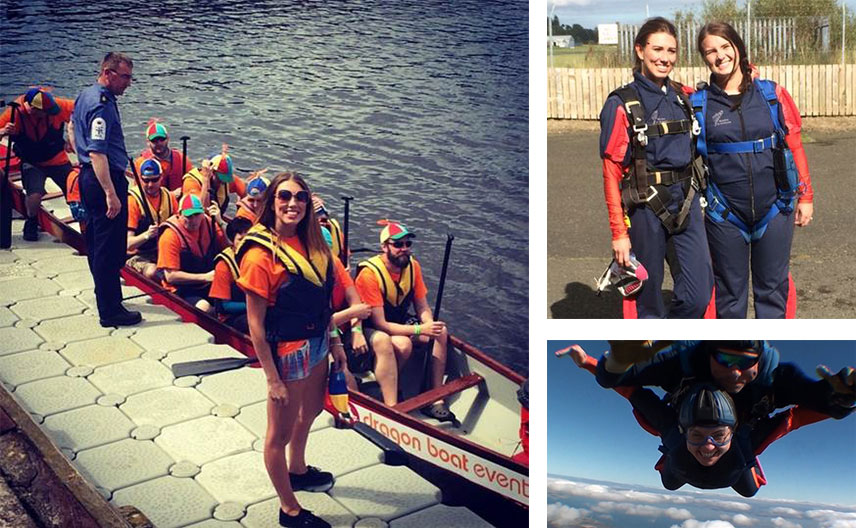 2014 – Bowel Cancer UK
David, our CEO, and Stuart, our managing director, got their trainers on along with two others for the Glasgow marathon. Three daredevils jumped out of a plane, and 36 took part in a dragon boat race in Leith. This helped us raise a massive £22,704 against our £20k target in 2014.
2013 – Alzheimer Scotland
This was the year of the bake sale, with a total of ten happening that year. We also held a pampering event involving Edinburgh-based beauticians who kindly volunteered their time as well as some great raffle prizes. A team of us also completed the Rob Roy challenge. This helped us raise £15,000 for Alzheimer Scotland.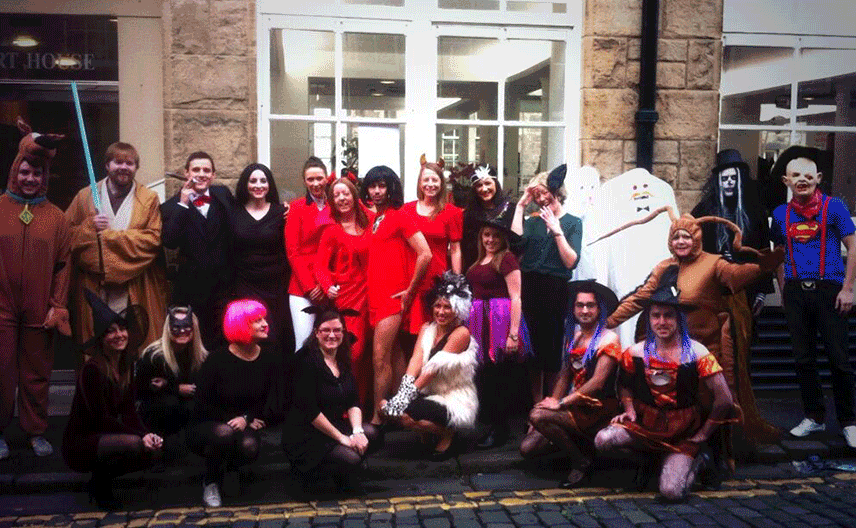 Midge bites on the Rob Roy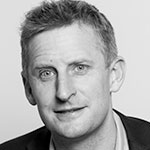 "Fundraising for a good cause is very much part of our corporate DNA and everyone in the business is encouraged to participate. This builds a sense of community, demonstrates our commitment to helping others, is a great way to get to know each other better and inevitably results in a whole lot of fun. I'm proud to work with people who are so generous with their time and money – and am impressed by the creative and diverse ideas the charity team comes up with each year!"
Stuart Geard, managing director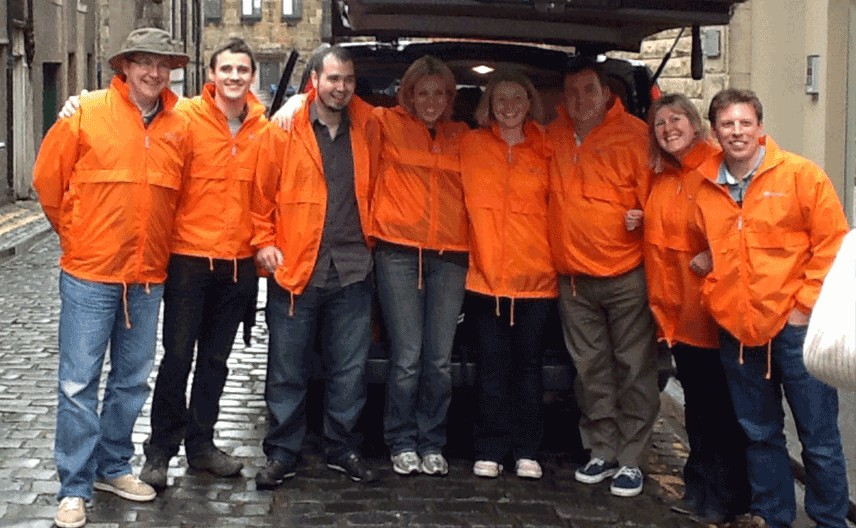 2012 – Teenage cancer trust
Ten of us abseiled down the Forth Rail Bridge and 12 took on the Caledonian Challenge walking 54 miles from Fort William to Loch Lomond in 24 hours. We smashed our £10k target raising £12k that year.